Kitchen Remodels / Renovations, Countertops, Kitchen Islands, Cabinets
Serving southeastern MA, including: South Dartmouth, North Dartmouth, Westport, New Bedford, Fairhaven, Mattapoisett, Marion, Wareham, Lakeville, Rochester MA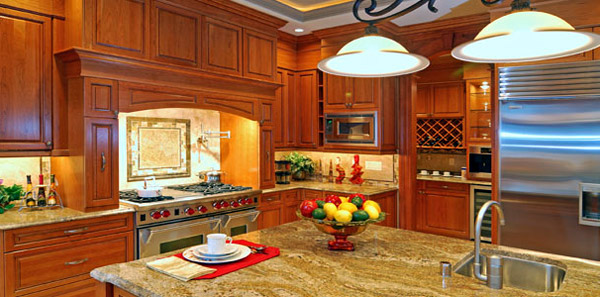 In today's society, the kitchen area is one of the most important rooms in the home. Not only is this room the place for food preparation or dining, but it serves as a central location for many family activites.
George Sebesta Renovations can help you remodel your existing kitchen into a room that is functional and pleasing to the eye. Of course, a detailed plan must be worked out before the start of any kitchen remodeling project.
Usually, some demolition is involved, in which the process calls for removing the old kitchen elements in the reverse order they were installed: appliances, plumbing, fixtures, countertops, and cabinets. Also, the project may call for some framing to add or remove a door, window or wall. MA homeowners can also add a kitchen island as a great way utilize workable space, while providing an open-space effect.
Custom Kitchen Renovation Photos
Below is a gallery of photos that our home renovation experts snapped during the kitchen remodeling process.
Click each image for a larger view. Use your keyboard's arrow keys for next (→) & previous (←).
Tap each image for a larger view.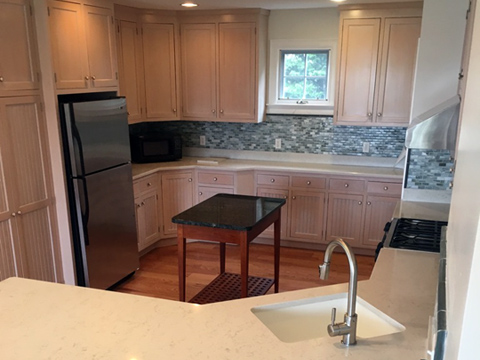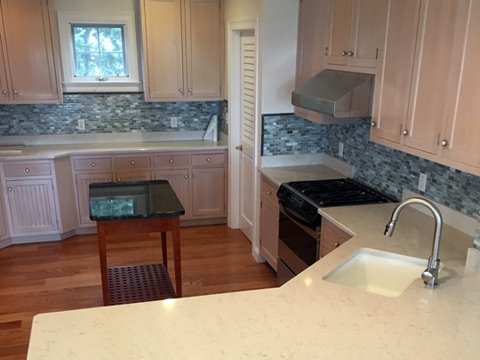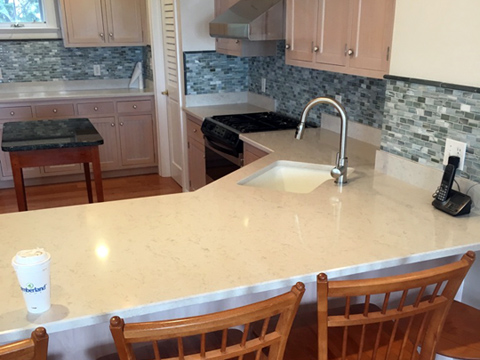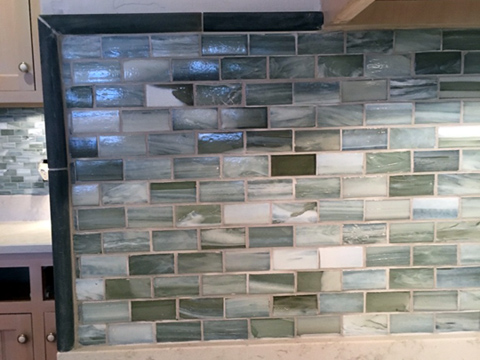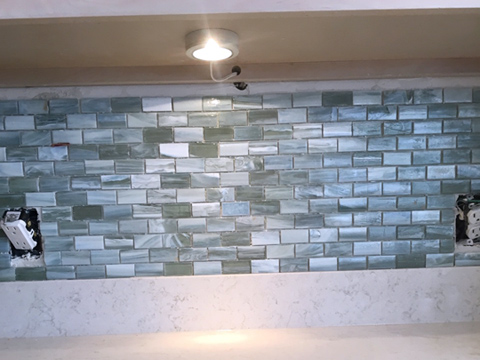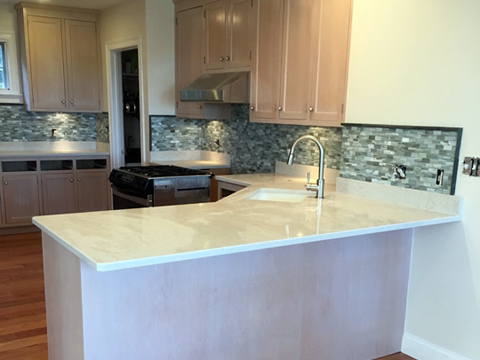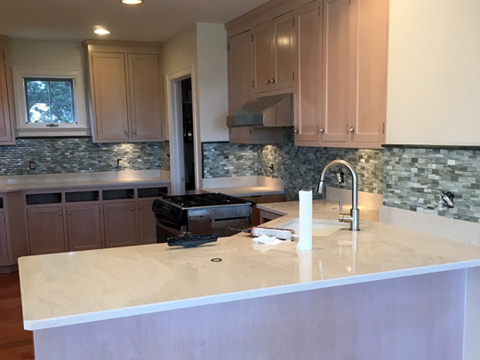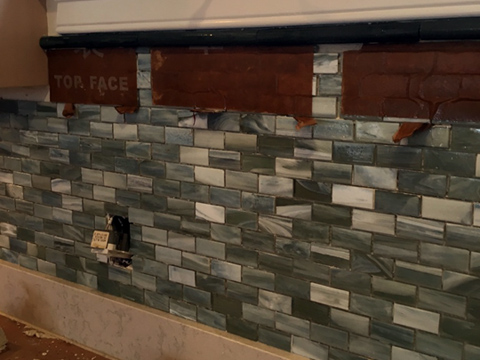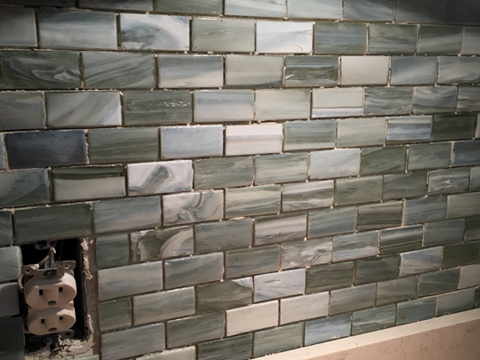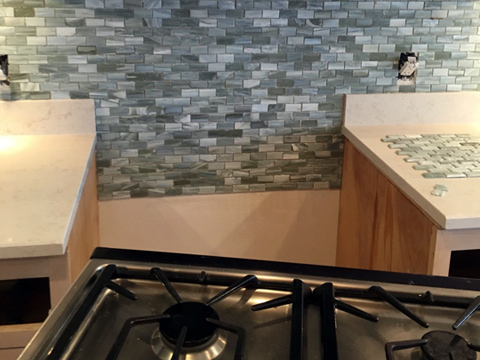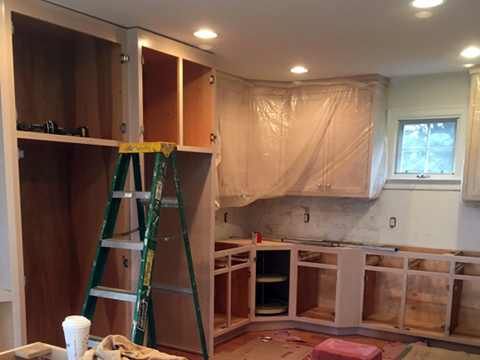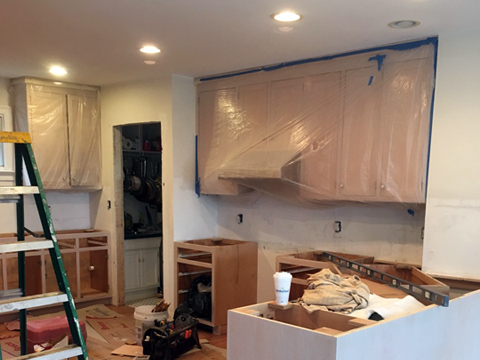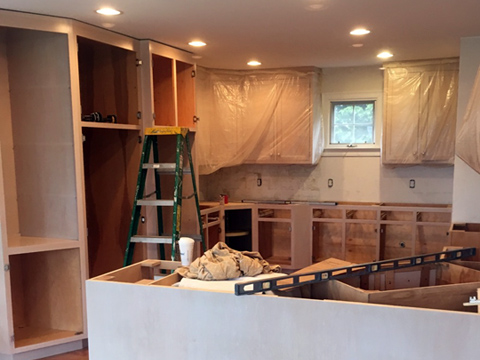 George Sebesta Renovations can help make your kitchen remodeling plan a reality. Call us at 774-328-9293 for a free estimate. Let us help make your home improvement experience a pleasurable one!
Key Kitchen Remodeling Points To Consider
Cabinets - The two basic cabinet styles are European-style (frameless) and face-framed cabinets. Each style has a variety of door, wood and finish options.
Countertops - Countertop choices range from very durable, yet very expensive materials like solid surface or granite to the less expensive, but attractive choices of ceramic tile and laminates.
Flooring - Sheet vinyl comes in a variety of textures, designs, and price ranges; it is a good flooring choice for moderately-priced kitchens. Wood floors or ceramic tile are popular flooring choices for more expensive kitchens.
Kitchen Sinks - Kitchen sinks are made of materials such as solid surface, cast iron, stainless steel and plastic. Mounting styles are either top-mount or undermount with a combination of sizes and features: single-bowl, double-bowl, deep or shallow. Faucets offer different finishes: polished brass or nickel, brushed nickel, chrome, stainless steel.
Appliances - An important design decision for appliances involves built-in or free-standing styles. Side-by-side refrigerators or units with top or bottom mounted freezers must also be decided on. Besides the traditional gas or electric issue, range options include: halogen or smooth-top cooktops, double and/or convection ovens, trash compactors, microwaves, range hoods and down-draft vents.
Our current South Coast MA / southeastern MA service area includes the southern New England communities of: New Bedford MA, Acushnet MA, Fairhaven MA, Mattapoisett MA, Marion MA, Wareham MA, Carver MA, Middleboro MA, Rochester MA, Freetown MA, East Freetown MA, Assonet MA, Lakeville MA, Taunton MA, Raynham MA, Bridgewater MA, Norton MA, Dighton MA, Berkley MA, Rehoboth MA, Seekonk MA, Swansea MA, Somerset MA, Fall River MA, Westport MA, Westport Point MA, North Dartmouth MA, & South Dartmouth MA.