Bathroom Remodeling, Install Showers, Tubs, Sinks, Vanities, & Tiles
Serving southeastern MA, including: South Dartmouth, North Dartmouth, Westport, New Bedford, Fairhaven, Mattapoisett, Marion, Wareham, Lakeville, Rochester MA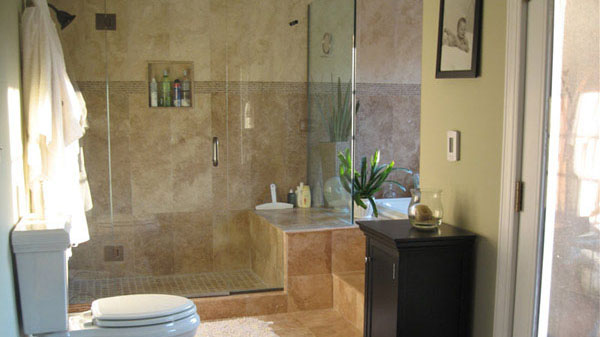 Remodeling a bathroom can be a daunting task. It may require demolition, framing, drywall, plastering, plumbing, electrical, and tiling the floor. George Sebesta Renovations can help you plan your bathroom remodeling project and make it a reality.
You may decide to enlarge your bathroom by taking space from an adjacent room. The project must be planned properly and we can help obtain the necessary permits you may need from your MA city/town building inspector.
We can remove old toilets, sinks, vanities, showers, and tubs, and install new bathroom fixtures. Additionally, we can also replace your present flooring with tile, vinyl, stone, or hardwood. The possibilities are endless when it comes to designing your new bathroom!
Bathroom Renovation - Before & After Photos
Below is a gallery of photos that our home renovation experts snapped during the various stages of bathroom remodeling. Presented in a "Before & After" format, this gallery will show you what George Sebesta Renovations can do to make your bathroom renovation a reality. Our in-house plumbers & electricians help the job go smoothly and uninterrupted!
Click each image for a larger view. Use your keyboard's arrow keys for next (→) & previous (←).
Tap each image for a larger view.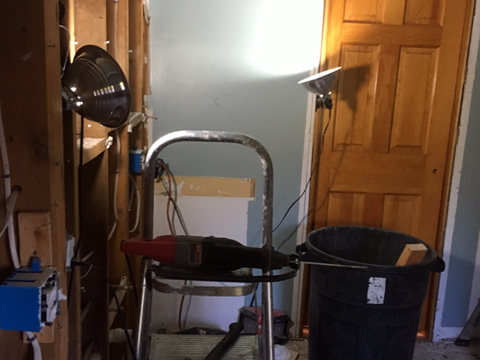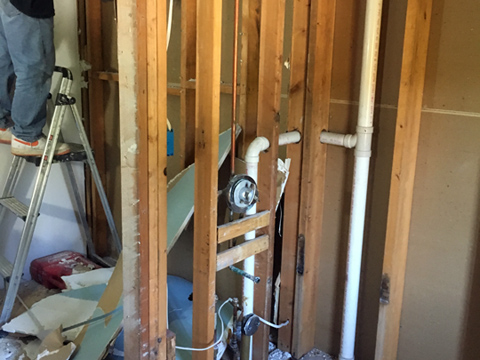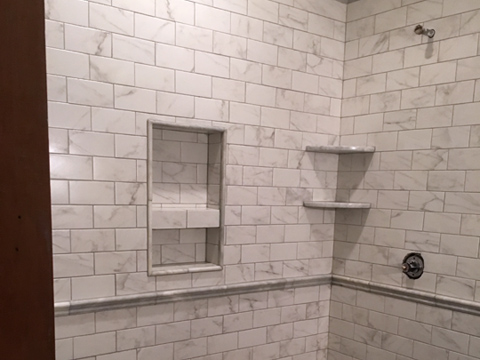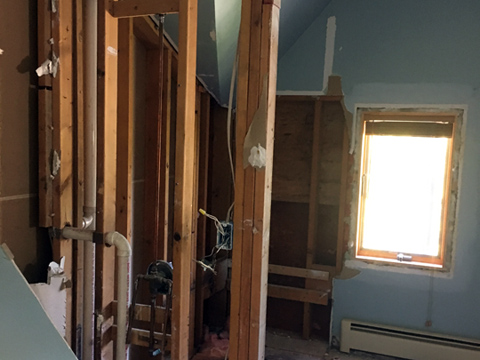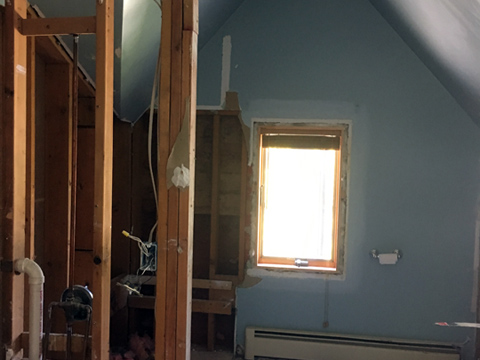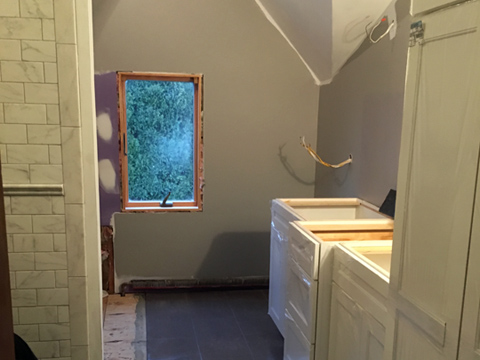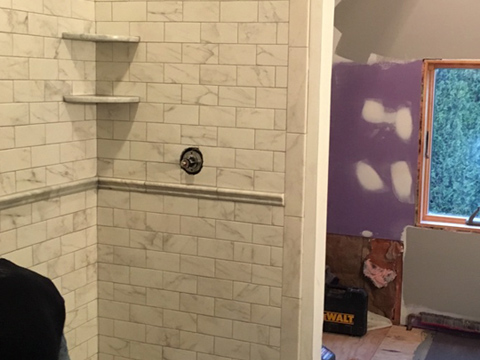 George Sebesta Renovations can help make your bathroom remodeling plan a reality. Call us at 774-328-9293 for a free estimate. Let us help make your home improvement experience a pleasurable one!
Best Price On Bathroom Remodeling, Custom Vanity, Shower, & Tub Installation In Southeast MA
George Sebesta Renovations can also install new bathroom vanities and refinish or paint bathroom cabinets to your liking. New bathroom windows or bathroom doors can be installed or the existing windows and doors can be refinished.
We specialize in "blueboard" or "greenboard" installation. When drywalling a bathroom, it is important to use greenboard, a water-resistant drywall, or blueboard (a high-density drywall), because of the bathroom's high moisture levels. Greenboard has a water-resistant facing so water is less likely to penetrate, stain and decay the wall. Blueboard has a harder surface and also has water-resisting qualities. After the drywall is finished and plastered, we will prime and paint the bathroom with the colors of your choice.
Our current South Coast MA / southeastern MA service area includes the southern New England communities of: New Bedford MA, Acushnet MA, Fairhaven MA, Mattapoisett MA, Marion MA, Wareham MA, Carver MA, Middleboro MA, Rochester MA, Freetown MA, East Freetown MA, Assonet MA, Lakeville MA, Taunton MA, Raynham MA, Bridgewater MA, Norton MA, Dighton MA, Berkley MA, Rehoboth MA, Seekonk MA, Swansea MA, Somerset MA, Fall River MA, Westport MA, Westport Point MA, North Dartmouth MA, & South Dartmouth MA.