Interior Home Remodeling References From Massachusetts Homeowners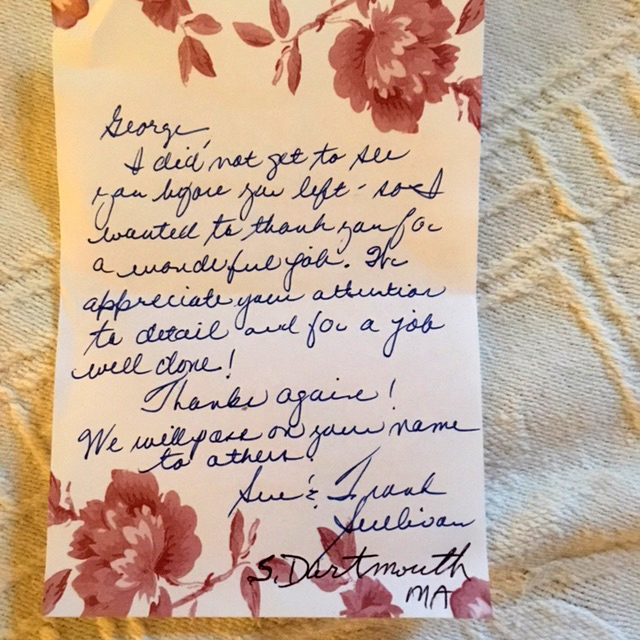 "Hello George!!! Just wanted to let you know that we had a gathering of family and friends during the holiday weekend and they are raving about our new deck!!! We are loving it and want to thank you again for your great work!!! Please post this and the deck on your website and let prospective clients know how happy we are and we welcome them to check it out."
- Sheree & Walter in East Taunton, MA
"We want to thank you for your truly professional work you did at our home. Both you and your crew exceeded all of our expectations. The house looks amazing. You and your work are the best."
- Ken & Cathy P. in Wareham, MA
"Thank you for your prompt and courteous service. I wish we had met you before we had so much other work done by other contractors. Please feel free to use us if you ever need a reference."
- Donna O. in Mattapoisett, MA
"Our house has never looked this good in the forty years we've lived here. You and your men were wonderful to have working on our home. I have already passed your name on to several people. We'll be in touch when we are ready for those other projects."
- Pauline & Nelson R. in South Dartmouth, MA
"We want to thank you for the way you worked at our house. I know there were a lot of changes as the job progressed, but your happy smile and professional attitude made it a great experience. We are so happy we are telling all our friends about you."
- Susan & Jack F. in Dartmouth, MA
Our current SouthCoast MA / southeastern MA service area includes the southern New England communities of: New Bedford MA, Acushnet MA, Fairhaven MA, Mattapoisett MA, Marion MA, Wareham MA, Carver MA, Middleboro MA, Rochester MA, Freetown MA, East Freetown MA, Assonet MA, Lakeville MA, Taunton MA, Raynham MA, Bridgewater MA, Norton MA, Dighton MA, Berkley MA, Rehoboth MA, Seekonk MA, Swansea MA, Somerset MA, Fall River MA, Westport MA, Westport Point MA, North Dartmouth MA, & South Dartmouth MA.